The Best Laid Wedding Plans by author Lynnette Austin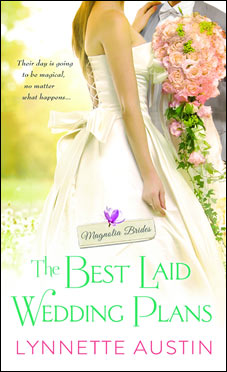 Excerpt from The Best Laid Wedding Plans
A Magnolia Brides Novel
"To have and to hold, from this day forward..." Jenni Beth Beaumont whispered the age-old vows.
Tiny white lights transformed Savannah's Chateau Rouge's gardens into a magical fairyland. The heavily beaded bridal gown shimmered in their reflected light.
Unfortunately, Jenni Beth was not wearing the gown.
But oh, how she wanted this. Not the wedding itself. No. She wanted to be the driving force behind making a bride's wedding day the most special of her life. Instead of organizing events here at Chateau Rouge, she wanted her own wedding planner business.
Tonight's bride fairly radiated. The groom, Jenni Beth's second cousin, looked so handsome in his dress uniform. He'd just last week come off a tour of duty in the Middle East.
Pain, instant and excruciating, washed over her. Her brother Wes had been even more handsome in his dress uniform the day he'd graduated from Officer's Candidate School, then again the day he'd deployed in his camos. The day she'd kissed him goodbye. The last time she'd seen him alive. Her throat constricted.
She exhaled, forced herself to shake it off. Not tonight. Tonight was a celebration of love. The beginning of a new family. Of dreams come true.
As the evening wore on, Jenni Beth relaxed.
A familiar voice whispered in her ear. "Dance with me."
Cole Bryson. She hadn't seen his name on the guest list.
Shivers raced down her spine, and her heart stuttered. It had been too long, not long enough. "No."
She wouldn't turn around, wouldn't meet those mesmerizing eyes.
His hands settled on her bare arms, and she nearly jumped. As the work-roughened hands moved over her skin, her stomach started a little dance of its own.
"I'm working, Cole."
"Nothin' needs done right now. Come on, sugar."
Knowing she shouldn't, she turned to face him. Mistake. She always had found him irresistible, and that hadn't changed. He'd perfected that slow Southern drawl, had the sound of a true gentleman. But the twinkle in his eyes gave him away. Revealed the bad boy tucked not far below the surface.
Dressed in a dark suit and tie, the man looked like every woman's dream. On the surface, smooth and debonair. But beneath lay the wild.
He took her hand, and, God forgive her, she followed him, weak-kneed onto the portable dance floor, telling herself she didn't want to, that she only did it to keep peace. Knowing she lied.
A full moon shone overhead and candlelight flickered. When he drew her into his arms and pulled her close, she sighed. One hand held hers, the other settled south of her waist.
"You smell good, Jenni Beth. You always do."
His voice, low and husky, sent goosebumps racing up and down her arms. Despite herself, she rested her head against his chest, seduced by the strong, steady beat of his heart, the illusion he could make everything and anything all right.
You don't want to miss The Best Laid Wedding Plans by Lynnette Austin!
Visit Lynnette on Facebook and Twitter.
© 2009 - 2022 by Lynnette Austin - All Rights Reserved
Web Design by Janice Boling