Every Bride Has Her Day by author Lynnette Austin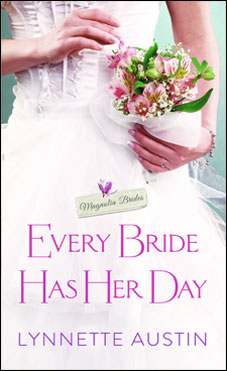 Excerpt from Every Bride Has Her Day
A Magnolia Brides Novel
Outside, dusk settled in. Sam opened the kitchen window and a warm breeze played over his face. Grabbing a beer, he decided to sit on the front porch steps for a bit. Hobo followed him out, dropping down heavily beside him, his head on Sam's lap. Within minutes, the dog was out cold, sighing every once in a while.
Ten minutes turned to twenty, half an hour to an hour.
He thought about Federoff, about the stranger who kept popping up.
The dark didn't scare him. It was the nightmares in his own head that turned the night against him and made it his enemy. Rather than fade away, the dreams came more often now, even with the sweet scent of the flowers from Gertie's rosebush filling the room.
Across the road, the bedroom shade opened a crack, and Cricket stood in the window, backlit by a soft lamp. He told himself to look away.
He didn't.
Sam drew back farther into the shadows. Did she know he watched her? She wasn't beautiful in the classical sense. That short, choppy blond hair, those storm-cloud eyes and little pointed chin shouldn't add up to attractive. They did.
The sizzle was purely physical, he reminded himself. It had been awhile since he'd been with a woman. Would be a long time till he wanted to again. The betrayal, the shooting, the hospital and physical therapy had all exacted a huge toll.
Now, he sat in the dark, on the outskirts of a Podunk town in Southern Georgia, alone with his thoughts and an annoying neighbor. One who looked like sin on two legs as she stood at her bedroom window in that skimpy little nightgown.
Sam swallowed a pain pill he'd tucked in his shirt pocket, then took one last look toward Cricket's. He told himself it was the cop thing, the need to protect. He sure as hell hoped that's all it was because, otherwise, he was turning into one sick puppy.
Speaking of pups. He nudged the old dog. "Hey, Hobo, bedtime. Run out in the yard and take your last tinkle for the night."
Restless, Cricket sighed and closed her blind. Not a single light on across the street.
Still, she could have sworn earlier—
She shook her head. This magnetic draw toward Sam DeLuca was silly, with more than a touch of loneliness thrown into the mix. But, oh, her girly parts tingled when the man was around. The man was gorgeous in capital letters.
Black hair and eyes, all that dark stubble, and oh, so male. Torn, tight jeans and a T-shirt that hugged his muscles. And she'd seen earlier what that shirt hid. Ooh, boy. No wonder she couldn't sleep.
She slipped out the backdoor and hit a switch. Strings of tiny white lights twinkled throughout the garden. Mrs. Michaels had planted a moon garden, and the night blooming jasmine shone beside the Lamb's ears and Dusty Millers, even in the slim moon's glow.
Bare-foot, she crossed to the small fountain and sat down on an ornate stone bench. The evening dew moistened her nightgown and hair. A fairy's kiss.
And still, Sam filled her mind.
Then all hell broke loose.
The most pitiful howls she'd ever heard erupted out front. Hobo? Had something happened to Sam? She raced through the yard, mindless of her bare feet.
"What the hell are you doing?" Sam's outraged voice lifted over Hobo's distress.
Relief rushed through her.
Hobo sat in the middle of the road howling pathetically.
"What's wrong?"
"I have no idea."
Cricket walked toward them, and Hobo greeted her with a bark and a leg nudge.
Sam's gaze traveled over her, making her aware of how thin her gown was, how short it was.
He grinned. "Nice look."
Her eyes drifted down the length of him. He, too, was shoeless, and his jeans hung low. "I might say the same."
"Cricket—" He raised his hands. "I'm sorry he woke you."
"He didn't. I was actually in the back yard."
"You should get some sleep. Come on, Hobo."
Sam started toward his house, and Cricket did the same.
Hobo dropped back onto the pavement and filled the night with long, mournful cries.
"See, this is why I don't need a dog." Sam took another step toward his house, and the dog's yelps grew louder. Hands on his hips, Sam eyed the dog.
Cricket moved closer.
Hobo stopped baying.
"Maybe he just wanted to wish you good night." Sam pulled Cricket into him.
She could barely breathe. In the moonlight, Sam looked like some pagan god, the moonlight glinting off that dark, dark hair. His body, so hard and warm, lit a fire deep inside her.Their lips touched, tongues danced, and she went weak-kneed.
"Good night, Bug."
"Night, Sam."
Hobo got to all fours, shook, then quietly stood beside Sam, watching her. She stopped at the door and waved.
"Lock your door," Sam called.
"Consider it done."
With a smile, she watched the man and his dog cross the street and walk inside.
You don't want to miss Every Bride Has Her Day by Lynnette Austin!
Visit Lynnette on Facebook and Twitter.
© 2009 - 2022 by Lynnette Austin - All Rights Reserved
Web Design by Janice Boling